Lesson 17: Building an App: Canvas Painter
Overview
Students continue to practice working with arrays and are introduced to a new user interface element, the canvas. The canvas includes commands for drawing simple geometric shapes (circles, rectangles, lines) and also triggers mouse and key events like any other user interface element. Over the course of the lesson, students combine these features to make an app that allows a user to draw an image while recording every dot drawn on the canvas in an array. By processing this array in different ways, the app will allow students to redraw their image in different styles, like random, spray paint, and sketching. Along the way, students use their knowledge of functions with return values to make code which is easy to manage and reuse.
Purpose
The study of computing is in many ways the study of information and the automation of processes to transmit, transform, and learn from that information. The combination of list data structures, like the JavaScript array, and loops allows for large amounts of information to be generated, maintained, and then transformed in useful and interesting ways. The patterns used to perform these processes are frequently quite similar, even across disciplines. By recognizing when and how to use arrays and loops to store and process information, a programmer can quickly solve problems and create things at a scale unimaginable without the power of computing.
Agenda
Getting Started (5 Minutes)
Activity (60-80 Minutes)
Wrap-up (10 Minutes)
Objectives
Students will be able to:
Programmatically control the canvas element in response to user interactions.
Maintain a dynamically generated array through the running of a program in order to record and reuse user input.
Use nested loops within a program to repeat a command on the same array index multiple times.
Perform variable arithmetic within an array index to access items in an array by their relative position.
Vocabulary
Canvas - a user interface element to use in HTML/JavaScript which acts as a digital canvas, allowing the programmatic drawing and manipulation of pixels, basic shapes, figures and images.
Key Event - in JavaScript an event triggered by pressing or releasing a key on the keyboard. For example: "keyup" and "keydown" are event types you can specify. Use event.key - from the "event" parameter of the onEvent callback function - to figure out which key was pressed.
Introduced Code
Teaching Guide
Getting Started (5 Minutes)
Introduction to Activity
Goal
This lesson requires a fair amount of programming and combines most of the programming constructs students have learned up to this point. Briefly let students know the aim of the lesson and then move on to programming the app.
Remarks
Today we are going to be building a drawing app in App Lab. Along the way, we'll be introduced to a couple new ideas and concepts, but for the most part, we will be combining old skills. At this point, you all know most of the core concepts of programming, and so as we move forward, we'll spend more time thinking about interesting ways to combine them. With that in mind, let's get into Code Studio and start building our next app!
Activity (60-80 Minutes)
App Lab: Building an App - Canvas Painter
The images below show the progression of what students create throughout the lesson. It's worth just glancing over them to get a sense of what you'll be seeing.
The final product is an app that lets you draw something by dragging the mouse around the screen. Afterward, you can apply different effects to the drawing. The code saves all of the mouse coordinates in an array. The effects are created by looping over all of the coordinates to effectively re-draw the image.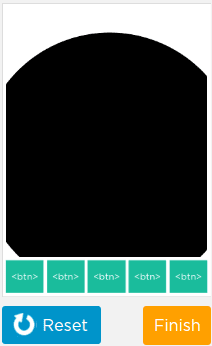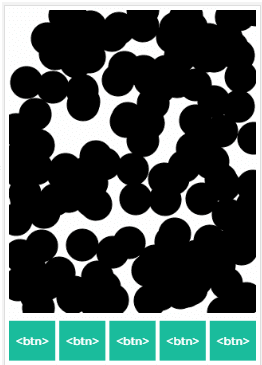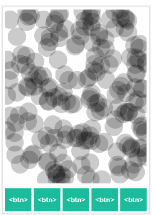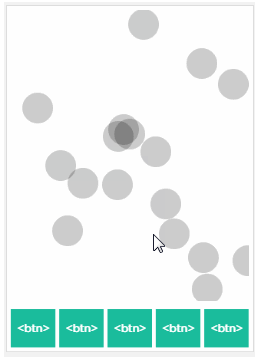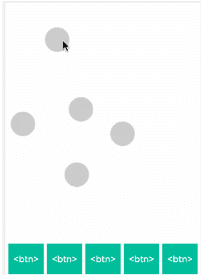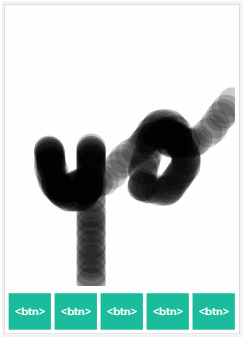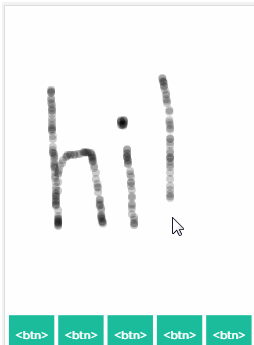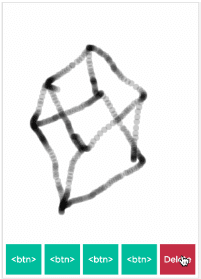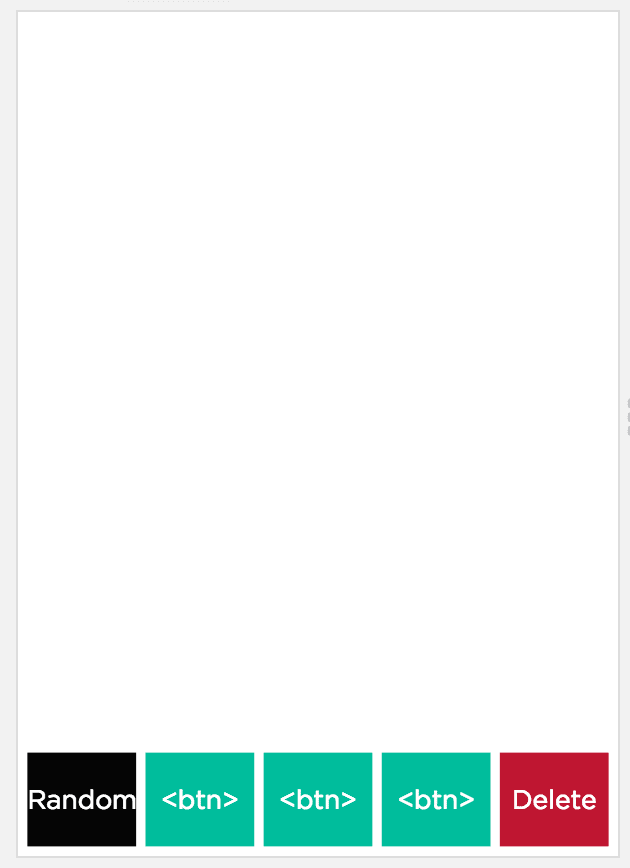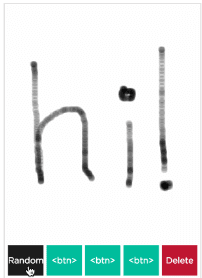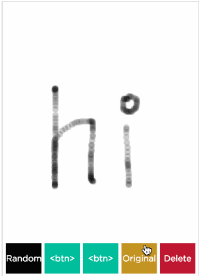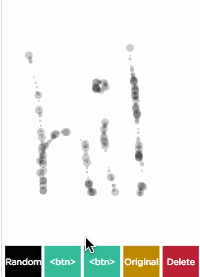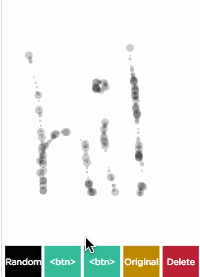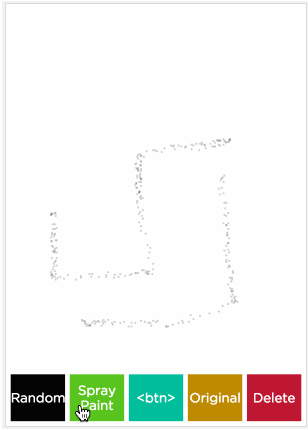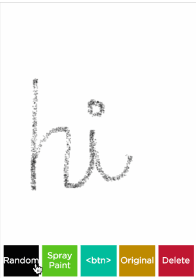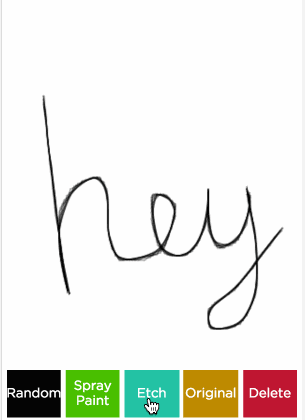 Wrap-up (10 Minutes)
Share any additional features added to your app.
Goal: If students have had time to brainstorm or create additional features in their drawing apps, give them an opportunity to share. Brainstorm other ways that this stored data could be processed, and the types of effects that could be produced as a result. Some students may wish to extend this project on the Practice Create Performance Task they will complete in the next lesson.
Brainstorm other effects that could be created.
Prompt:
"We've seen a few ways to process our array of events over the course of this lesson, but there are many other effects we could produce. How else could we use the information we stored in our array? What other effects do you think we could make?"
Discuss:
Either in groups or as a class, students should share the ideas they brainstormed. Ask students to describe how they would actually process the array to develop the effects, ideally by referencing specific the programming constructs they would need.
Remarks
Processing lists of information is a very powerful ability. We've just brainstormed many different ways we could process lists of points in a drawing app, but those same skills could be used to process lists of transactions, images, messages sent through an app, or anything else that is stored in a list. Keep an eye out for other instances where we can use list processing to create new features in your programs.
Standards Alignment
Computer Science Principles
1.2 - Computing enables people to use creative development processes to create computational artifacts for creative expression or to solve a problem.

1.2.1 - Create a computational artifact for creative expression. [P2]

1.2.1A - A computational artifact is anything created by a human using a computer and can be, but is not limited to, a program, an image, audio, video, a presentation, or a web page file.
1.2.1B - Creating computational artifacts requires understanding and using software tools and services.
1.2.1C - Computing tools and techniques are used to create computational artifacts and can include, but are not limited to, programming IDEs, spreadsheets, 3D printers, or text editors.
1.2.1D - A creatively developed computational artifact can be created by using nontraditional, nonprescribed computing techniques.
1.3 - Computing can extend traditional forms of human expression and experience.

1.3.1 - Use computing tools and techniques for creative expression. [P2]

1.3.1C - Digital images can be created by generating pixel patterns, manipulating existing digital images, or combining images.
1.3.1D - Digital effects and animations can be created by using existing software or modified software that includes functionality to implement the effects and animations.
1.3.1E - Computing enables creative exploration of both real and virtual phenomena.
2.2 - Multiple levels of abstraction are used to write programs or create other computational artifacts

2.2.1 - Develop an abstraction when writing a program or creating other computational artifacts. [P2]

2.2.1A - The process of developing an abstraction involves removing detail and generalizing functionality.
2.2.1B - An abstraction extracts common features from specific examples in order to generalize concepts.
2.2.1C - An abstraction generalizes functionality with input parameters that allow software reuse.

2.2.2 - Use multiple levels of abstraction to write programs. [P3]

2.2.2A - Software is developed using multiple levels of abstractions, such as constants, expressions, statements, procedures, and libraries.
2.2.2B - Being aware of and using multiple levels of abstraction in developing programs helps to more effectively apply available resources and tools to solve problems.
4.1 - Algorithms are precise sequences of instructions for processes that can be executed by a computer and are implemented using programming languages.

4.1.1 - Develop an algorithm for implementation in a program. [P2]

4.1.1A - Sequencing, selection, and iteration are building blocks of algorithms.
4.1.1B - Sequencing is the application of each step of an algorithm in the order in which the statements are given.
4.1.1C - Selection uses a Boolean condition to determine which of two parts of an algorithm is used.
4.1.1D - Iteration is the repetition of part of an algorithm until a condition is met or for a specified number of times.

4.1.2 - Express an algorithm in a language. [P5]

4.1.2A - Languages for algorithms include natural language, pseudocode, and visual and textual programming languages.
4.1.2B - Natural language and pseudocode describe algorithms so that humans can understand them.
4.1.2C - Algorithms described in programming languages can be executed on a computer.
4.1.2G - Every algorithm can be constructed using only sequencing, selection, and iteration.
4.1.2I - Clarity and readability are important considerations when expressing an algorithm in a language.
5.1 - Programs can be developed for creative expression, to satisfy personal curiosity, to create new knowledge, or to solve problems (to help people, organizations, or society).

5.1.1 - Develop a program for creative expression, to satisfy personal curiosity, or to create new knowledge. [P2]

5.1.1A - Programs are developed and used in a variety of ways by a wide range of people depending on the goals of the programmer.
5.1.1B - Programs developed for creative expression, to satisfy personal curiosity, or to create new knowledge may have visual, audible, or tactile inputs and outputs.
5.1.1C - Programs developed for creative expression, to satisfy personal curiosity, or to create new knowledge may be developed with different standards or methods than programs developed for widespread distribution.
5.1.1D - Additional desired outcomes may be realized independently of the original purpose of the program.
5.1.1E - A computer program or the results of running a program may be rapidly shared with a large number of users and can have widespread impact on individuals, organizations, and society

5.1.2 - Develop a correct program to solve problems. [P2]

5.1.2A - An iterative process of program development helps in developing a correct program to solve problems.
5.1.2B - Developing correct program components and then combining them helps in creating correct programs.
5.1.2C - Incrementally adding tested program segments to correct, working programs helps create large correct programs.
5.1.2J - A programmer designs, implements, tests, debugs, and maintains programs when solving problems.
5.3 - Programming is facilitated by appropriate abstractions.

5.3.1 - Use abstraction to manage complexity in programs. [P3]

5.3.1A - Procedures are reusable programming abstractions.
5.3.1B - A function is a named grouping of programming instructions.
5.3.1C - Procedures reduce the complexity of writing and maintaining programs.
5.3.1D - Procedures have names and may have parameters and return values.
5.3.1E - Parameterization can generalize a specific solution.
5.3.1F - Parameters generalize a solution by allowing a function to be used instead of duplicated code
5.3.1G - Parameters provide different values as input to procedures when they are called in a program.
5.3.1J - Integers and floatingpoint numbers are used in programs without requiring understanding of how they are implemented.
5.3.1K - Lists and list operations, such as add, remove, and search, are common in many programs.
5.3.1L - Using lists and procedures as abstractions in programming can result in programs that are easier to develop and maintain.
5.4 - Programs are developed, maintained, and used by people for different purposes.

5.4.1 - Evaluate the correctness of a program. [P4]

5.4.1A - Program style can affect the determination of program correctness.
5.4.1B - Duplicated code can make it harder to reason about a program.
5.4.1C - Meaningful names for variables and procedures help people better understand programs.
5.4.1D - Longer code blocks are harder to reason about than shorter code blocks in a program.
5.4.1E - Locating and correcting errors in a program is called debugging the program.
5.4.1F - Knowledge of what a program is supposed to do is required in order to find most program errors.
5.4.1G - Examples of intended behavior on specific inputs help people understand what a program is supposed to do.
5.4.1H - Visual displays (or different modalities) of program state can help in finding errors.
5.4.1L - An explanation of a program helps people understand the functionality and purpose of it.
5.4.1M - The functionality of a program is often described by how a user interacts with it.
5.4.1N - The functionality of a program is best described at a high level by what the program does, not at the lower level of how the program statements work to accomplish this.
5.5 - Programming uses mathematical and logical concepts.

5.5.1 - Employ appropriate mathematical and logical concepts in programming. [P1]

5.5.1D - Mathematical expressions using arithmetic operators are part of most programming languages.
5.5.1E - Logical concepts and Boolean algebra are fundamental to programming.
5.5.1F - Compound expressions using and, or, and not are part of most programming languages.
5.5.1G - Intuitive and formal reasoning about program components using Boolean concepts helps in developing correct programs.
5.5.1H - Computational methods may use lists and collections to solve problems.
5.5.1I - Lists and other collections can be treated as abstract data types (ADTs) in developing programs.
5.5.1J - Basic operations on collections include adding elements, removing elements, iterating over all elements, and determining whether an element is in a collection.
CSTA K-12 Computer Science Standards (2017)
AP - Algorithms & Programming

3A-AP-16 - Design and iteratively develop computational artifacts for practical intent, personal expression, or to address a societal issue by using events to initiate instructions.