What is CS Principles?
In fall 2016, the College Board launched its newest AP® course, AP Computer Science Principles. The course introduces students to the foundational concepts of computer science and challenges them to explore how computing and technology can impact the world. The AP Program designed AP Computer Science Principles with the goal of creating leaders in computer science fields and attracting and engaging those who are traditionally underrepresented with essential computing tools and multidisciplinary opportunities.
For more information, visit http://collegeboard.org/APCSP.
Code.org's AP CS Principles Curriculum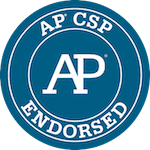 Code.org is recognized by the College Board as an endorsed provider of curriculum and professional development for AP® Computer Science Principles. This endorsement affirms that all components of Code.org CS Principles's offerings are aligned to the AP Curriculum Framework standards and the AP CS Principles assessment. Using an endorsed provider affords schools access to resources including an AP CS Principles syllabus pre-approved by the College Board's AP Course Audit, and officially recognized professional development that prepares teachers to teach AP CS Principles. Our curriculum is available at no cost for anyone, anywhere to teach.
Curriculum Resources and Features
Unit Overview